News
Health Net Named by Newsweek to Annual "America's Best Customer Service" Ranking
Date: 09/02/21
The prestigious annual report is co-presented by Newsweek and Statista Inc., the world-leading statistics portal and industry ranking provider.
Sacramento, Calif. – September 2, 2021 – Health Net, one of California's longest serving and most experienced Medi-Cal partners, has been named by Newsweek to the publisher's annual "America's Best Customer Service" ranking among health insurance plans.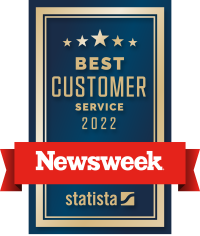 "We are delighted to be recognized on Newsweek's list of America's Best Customer Service 2022. This recognition proves again that the experience, empathy and expertise we offer our members is what they need to live healthier lives," says Health Net President and CEO, Brian Ternan. "It's a significant and prestigious recognition that applies to every employee across the company, in all lines of business. At every member touchpoint – whether inbound or outbound – we meet our members where they are, with their unique challenges, and then work to remove their barriers to care."
For their annual America's Best Customer Service ranking in health care insurance, Newsweek selected and ranked brands based on a vast, independent survey by Statista Inc., the world-leading statistics portal and industry ranking provider. The survey asked questions of more than 25,000 U.S. consumers who either made purchases, used services or gathered information about products or services in the past three years.
Customers provided their feedback about different brands in several key categories, including quality of communication, professional competence, and range of services, customer focus and accessibility. A total of 160,000 customer evaluations were collected. Based on this input, Newsweek ranked brick & mortar companies, online retailers and service providers from 161 product and service categories.
This is the second time Health Net's excellent customer service has been recognized by external panels in the last three months. In July, Health Net was also ranked highest for customer service among Health Insurers in Forrester's proprietary 2021 US Customer Experience Index (CX Index™) survey. The ranking was based on responses from more than 85,000 US survey respondents from 13 US industries, including health care plans.
About Health Net
At Health Net, we believe every person deserves a safety net for their health, regardless of age, income, employment status or current state of health. Founded in California more than 40 years ago, we're dedicated to transforming the health of our community, one person at a time. Today, Health Net's 2,600 employees and 85,000 network providers serve 3 million members. That's nearly 1 in 12 Californians. We provide health plans for individuals, families, businesses of every size and people who qualify for Medi-Cal or Medicare — Coverage for Every Stage of Life™. Health Net also offers access to substance abuse programs, behavioral health services, employee assistance programs and managed health care products related to prescription drugs. We offer these health plans and services through Health Net, LLC and its subsidiaries: Health Net of California, Inc., Health Net Life Insurance Company and Health Net Community Solutions, Inc. These entities are wholly owned subsidiaries of Centene Corporation (NYSE: CNC), a Fortune 25 company that offers affordable and high-quality products to nearly 1 in 15 individuals across the nation. For more information, visit HealthNet.com.