News
Health Net Ranks Highest In Customer Service Among Health Insurers
Date: 07/13/21
Sacramento, CA (July 13, 2021) — Health Net ranks the highest in customer service among Health Insurers in Forrester's proprietary 2021 US Customer Experience Index (CX Index™) survey. The ranking was based on responses from more than 85,000 US survey respondents from 13 US industries, including health care plans.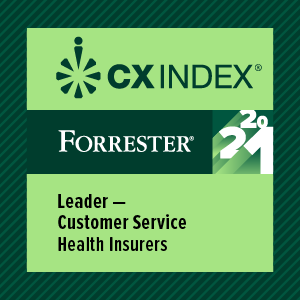 "With decades of experience caring for California's most vulnerable residents, we've worked hand-in-hand with the state to serve those who depend on the healthcare safety net the most," said Brian Ternan, President and CEO of Health Net of California. "This award validates the hard work we've put into putting our customers first. When it comes to meeting the needs of our members, we know one size does not fit all. That's why our teams live in, and reflect the diversity of, the communities that we serve, and it's one of the ways we strive to always provide a best-in-class customer care experience for all our members."
Forrester's CX Index score measures how a company delivers customer experiences that create and sustain loyalty. Conducted for the seventh year in a row, Forrester's 2021 CX Index results are benchmarked on a survey of 85,073 US customers across 220 BRANDS and 13 industries. CX leaders grow revenue faster, drive higher brand preference, and can charge more for their products. Additionally, CX Index helps brands identify the key drivers of a positive CX for their customers to prioritize efforts. Even a minor improvement to a brand's customer experience quality can add tens of millions of dollars of revenue by reducing customer churn and increasing share of wallet. Superior CX leads to reduced service costs and lowers the cost of customer acquisition through word of mouth.
"The past year has revealed how brands that keep their customers at the center of all they do can continue to meet evolving customer needs even in a crisis," said Michelle Yaiser, VP of CX Analytics at Forrester. "The brands that adapted how they engaged with customers, while continuing to make them feel good about their interactions, saw higher CX Index scores, increased customer loyalty, and had a larger group of devoted customers."
Forrester's CX Index gives businesses a deep and actionable understanding of the quality of their customers' experiences, competitive benchmark data so that business and technology leaders know how they stack up against their peers, and the ability to model the improvements that will have the biggest impact on revenue.
About Health Net
At Health Net, we believe every person deserves a safety net for their health, regardless of age, income, employment status or current state of health. Founded in California more than 40 years ago, we're dedicated to transforming the health of our community, one person at a time. Today, Health Net's 2,600 employees and 85,000 network providers serve 3 million members. That's nearly 1 in 12 Californians. We provide health plans for individuals, families, businesses of every size and people who qualify for Medi-Cal or Medicare — Coverage for Every Stage of Life™. Health Net also offer access to substance abuse programs, behavioral health services, employee assistance programs and managed health care products related to prescription drugs. We offer these health plans and services through Health Net, LLC and its subsidiaries: Health Net of California, Inc., Health Net Life Insurance Company and Health Net Community Solutions, Inc. These entities are wholly owned subsidiaries of Centene Corporation (NYSE: CNC), a Fortune 25 company that offers affordable and high-quality products to nearly 1 in 15 individuals across the nation. For more information, visit HealthNet.com.
*The proprietary survey results are based on consumers' opinions of their experiences with the brands in the survey. Forrester Research does not endorse any company included in any CX Index report and does not advise any person to select the products or services of any particular company based on the ratings included in such reports.