Award your employees with healthcare they want
Your employees deserve a safety net for their health. Choose from a range of health plans that meet their needs at every stage of life. Have additional questions? Call our group plan sales/enrollment hotline at 1-800-447-8812.
Small Group Solutions for 2023
Move your business forward – by giving your clients affordable, flexible HMO and PPO options! We offer an array of robust small business-focused solutions. It's easy to help your clients select the right plan and network. And with around-the-clock care options, concierge-style service, wellness programs, and other extras, our plans offer value beyond benefits. The net result is satisfaction – for you and your clients.
Choose from a wide range of cost and coverage options
We strive to offer right-size plans that suit both your clients and their balance sheet. Our HMO and PPO options, each matched with a network of select local care providers, are available in many favorable price and coverage levels across the portfolio.
Mix-and-match plans and networks
Employer groups pick their favorite plan design, then pair it with any of the networks we offer in their region. The plan design stays the same. The process is quick and easy – and we're here to help every step of the way.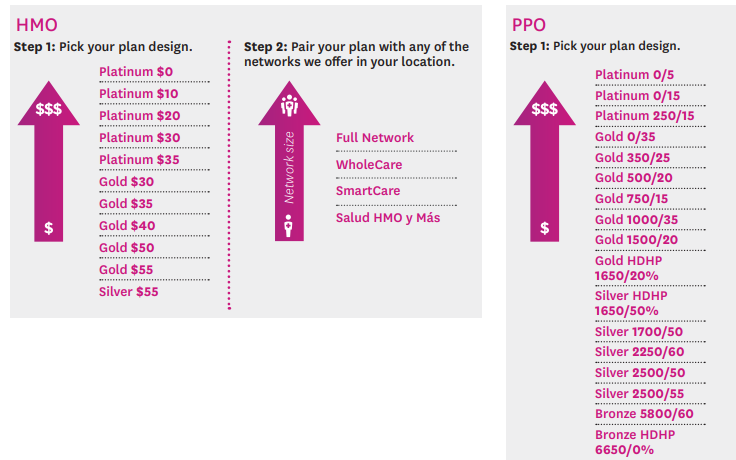 Health Net's Enhanced Choice
Enhanced Choice offers small business groups a simplified package offering access to all plans.
Network HMO
WholeCare HMO
SmartCare HMO
Salud HMO y Más
CommunityCare HMO
Full Network PPO
Health Net's pharmacy network
Health Net has a wide pharmacy network. It's easy to find a quality pharmacy near where you live or work.
Network pharmacies include:
Major supermarket-based pharmacies
Privately-owned pharmacies
Major pharmacy chains
You can find these pharmacies throughout California and the United States. When you fill your prescriptions at a Health Net network pharmacy, you get your prescription drugs at the highest available benefit coverage under your plan.
Pick Your Plan
Select a plan with the services you need. Choose from many HMO and PPO benefit options.
Explore Plans
Health & Wellness
Make a positive difference in how your employees work and live. All our plans have wellness programs.
Search Features
Supplemental Benefits
Get added coverage after you enroll. Dental, vision and chiropractic services are available.
View Extra Benefits
Forms & Documents
Download what you need from an array of plan overviews and coverage documents.
View and Download
Preferred Drug Lists
See current lists of covered drugs selected by Health Net and a team of health care providers.
Review Drug Lists