News
Health Care Professionals Learn How to Address Social Risks with an Equity Driven Framework from Health Net
Date: 11/16/22
Last month, Health Net was chosen as one of just nine healthcare plans in the nation to receive the new Health Equity Accreditation Plus, by the National Committee for Quality Assurance (NCQA). It shows our work as a valuable partner for community-based organizations (CBOs) to better address members' social needs. It is a testament to our team, our partners, and most importantly, our mission to work to improve the lives of those we serve.
Clinical-community links help connect health care providers, CBOs and public health agencies. These links improve patients' access to preventative and medical care services. They can offer patients better access to resources in their communities. This can help prevent or manage disease and improve their quality of life. Clinical-community links are part of the new Health Equity Accreditation Plus program.
Health Net's Senior Compliance Administrator, Michelle Najarro, and Senior Director, Systems of Care, Nancy Wongvipat Kalev, attended the NCQA Health Innovation Summit in Washington, D.C. On October 31, 2022, Nancy spoke on a panel titled, "Clinical-Community Linkages to Advance Health Equity."
With over 150 attendees, the panel talked about how Health Equity Accreditation Plus integrates and prioritizes clinical-community links. This work addresses social risks and meets social needs through an equity driven framework.
Nancy shared:
The importance of community linkages
How to build and sustain community linkages
How to partner through purpose
New learnings for the future to sustain linkages
Learn more about the summit here. To read more about Health Net's work to increase health equity, visit our Resource Library.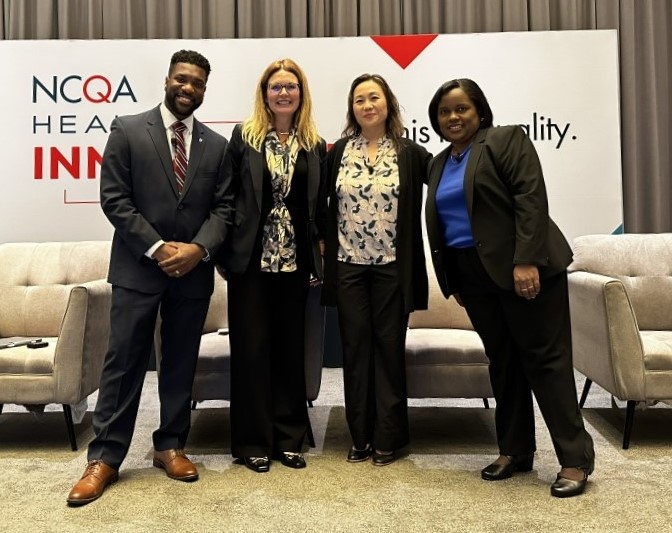 From left to right: Dr. Bryan Buckley, Director, Health Equity Initiatives at NCQA, Katherine Bailey, Chief Executive Officer at San Diego Wellness Collaborative, Nancy Wongvipat Kalev, Senior Director, Systems of Care at Health Net and Dorella Walters, Senior Director of External Program Affairs at God's Love We Deliver