News
Health Net's "RVax 180" Initiative Brought More than 22,000 Vaccines to Californians
Date: 03/15/22
After serving Californians for more than 40 years, Health Net knows that each community is unique. That's why, when working to vaccinate Californians against COVID-19, we knew we had to approach each community with a unique plan.
While some communities had doctors, nurses and pharmacies administering vaccinations, many people still weren't getting vaccinated. Health Net wanted to do something about that.
That's why we launched our RVax 180 initiative. Our goal was to host more than 180 mobile COVID-19 vaccine clinics in neighborhoods across the state within one year. With four decades of experience caring for California's most vulnerable residents, Health Net knew the best way to bring vaccines into the community was to partner with community-based organizations (CBOs). CBOs, like Community Organized Relief Effort (CORE), a crisis response organization that brings immediate aid and recovery, are well-known and trusted in the communities they serve. So, we partnered with CBOs to host community events at businesses, churches, schools and more.
"Better health outcomes start with access to care. That's why Health Net partnered with local organizations to bring vaccines to community members in convenient ways," said Dr. Pooja Mittal, Chief Health Equity Officer of Health Net. "This allowed us to successfully reach the unvaccinated and ensure everyone had the opportunity to protect themselves and their loved ones against COVID-19."
Vaccinating the community is a joint effort. We could not have done it without the help of our many CBO partners, including:
United Farm Workers Foundation, who mobilize farm workers and their organizations across the country to advocate for more equitable policies, such as immigration reform, pesticide protections, heat standards, hazard pay, and other worker protections.
Visión y Compromiso, who improve community well-being by supporting promotores and community health workers.
African American Family & Cultural Center, who empower and embrace African American families and communities by reclaiming, restoring and revitalizing our cultural heritage, values and identity.
Northern Valley Indian Health Center, who provide health services to eligible American Indians in their service areas.
Muslim American Society Community & Youth Center, who provides social, educational, spiritual, and recreational programs for the Muslim community, aimed at developing stronger individuals and families capable of benefiting their community and the society at large.
Places of faith, specifically Black churches, and mosques.
Health Net learned many valuable lessons through these partnerships. The most popular events we hosted were on the weekends. People could get vaccinated without having to take time off work or worry about experiencing side effects during working hours. We also learned that more residents attended events when we partnered with local businesses to offer free food. Families could come out, get vaccinated, support a small business, and enjoy a lunch or dinner together. Some events also offered live music, raffle prizes and games for kids. Each event was treated as a community celebration to reach people who had not yet decided to get vaccinated.
With this approach, Health Net administered more than 22,000 vaccines to residents in 70+ cities up and down California. In less than a year, we traveled more than 40,000 miles and held more than 210 vaccine clinics, far surpassing our 180-event goal.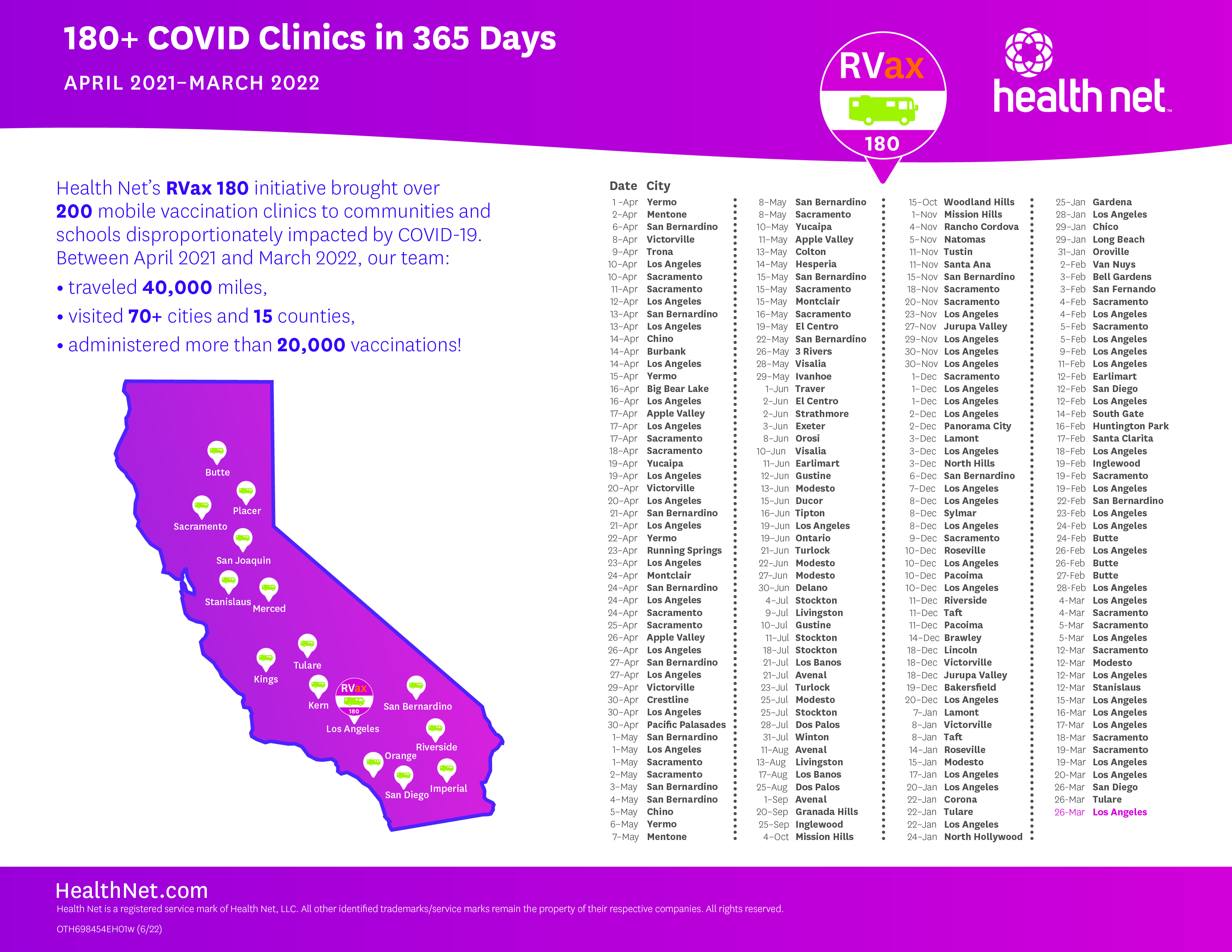 Health Net believes everyone deserves to protect themselves from COVID-19 and get vaccinated. To learn more about COVID-19 vaccines, visit Healthnet.com/COVID19.